Review: Dali Decals
We recently moved into a new home and wanted to do something fun for our toddler since he seems to be stressed about the move. We decided to make his bathroom and hallway more lively and homey. We used fun decals from Dali Decals to put turtles in his bathroom and cats and birds in his hallway. This was our first experience with wall decals, so we were nervous, but everything went smoothly!

Our decals arrive in a cute box and we laid them out on the counter to examine them.


We watched the video on the Dali Decals website. We watched the first video twice because it seemed too easy and we thought that we were missing something. It turns out that it actually is easy. We cut the decals apart, peeled the backing off, applied them to the wall, smoothed them onto the wall, and removed the backing. Our walls have a little bit of texture, so we used our fingers when pressing them onto the wall to get them on there really well. We practiced with the extra sample decal that they sent. It was a little green flower that we applied perfectly. I wanted to make sure that it really came off without ruining our paint, so I slowly removed it. Everything was fine! Whew, what a relief!

Check out our results below.

Doesn't every toddler's bathroom need turtles jumping into the bathtub?
Cats and birds to greet him at the entrance of his room!
If you leave extra decals laying around and you suddenly hear silence in your house, be wary! My husband was quiet for a while and it was because he was adding another cat and extra birds to the hallway. He had DDOD!
I love Dali Decals and can't believe that I did not know about these sooner. They are such a fun idea to liven up a room. My toddler needed some cheering up because he misses our old home and this was something fun to do for him. If I did these again, I would do the monkeys below: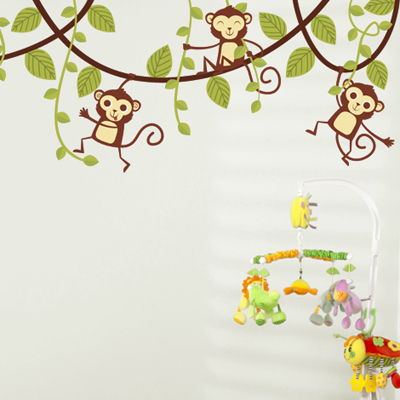 As I mentioned, my husband has DDOD. I confronted him about this and he laughed. He admitted his problem, but says that he really wants a wall decal of a tree for his office. I don't have DDOD, but I agree that one would look nice in there!
Are you ready to liven up your home? Check out Dali Decals to find decals that best fit your home. You can also enter to win a $25 gift card if you keep reading.
Contest
One winner will receive a$25 gift card to Dali Decals!
To enter, post a comment by August 15, 2012.
This c
ontest is open to residents in the U.S. If you have already won a Dali Decal gift certificate from another contest, you cannot win this contest as well. The winner will receive their gift certificate through email directly from Dali Decals. Good luck!
I am appreciative of the free products that we received for this review. I was not monetarily compensated for this review and all opinions are honest and my own

.