Review: Tramontina® Porcelain Enamel Colored Nonstick Aluminum 14-Piece Cookware Set
We have a great gift recommendation for Mother's Day - a trendy new cookware set! Check out the Tramontina Cookware Set below. After using this set for a short while, I can't go back to using my old set. These pots, pans, and accessories make it fun to cook!
The set includes the following:
10" Fry Pan

10" Sauté Pan w/ Lid

2 Qt Sauce Pan w/ Lid

4 Qt Sauce Pan w/ Lid

5 Qt Dutch Oven w/ Lid

6 Qt Stock Pot w/ Lid

Deep Fry Basket (fits 4 Qt Sauce Pan)

Steamer Insert (fits 2 Qt Sauce Pan)

Lock-n-Drain Insert (fits 6 Qt Stock Pot)
This set has everything that you would typically want in a new cookware set, but there are a few things that really set it apart. First, it uses the new color technology by Dupont where the colored nonstick interior coating is made of Teflon Platinum. I was able to choose from the colors bronze or copper. I went for copper and I love the bright color. After using this set for a while, I am hooked on the bright color that generally contrasts well with the food that I prepare. Another perk of this technology is that pans coated with Teflon nonstick coating systems are supposed to have a useful life of up to seven times longer than "ceramic" coated cookware. The nonstick interior coating is PFOA-free. I found that it is quick and easy to cleanup.
My second favorite thing about these pots and pans are that they are dishwasher safe. I am so tired of hand-washing our old pots and pans so this is a huge deal. Our previous set cost a fortune - we paid just over $

4

00 on the set and then I learned that the pieces were not dishwasher safe. That was a big disappointment with our old set. I'm so glad that the designers of this Tramontina accommodated those of us that love to put everything into the dishwasher!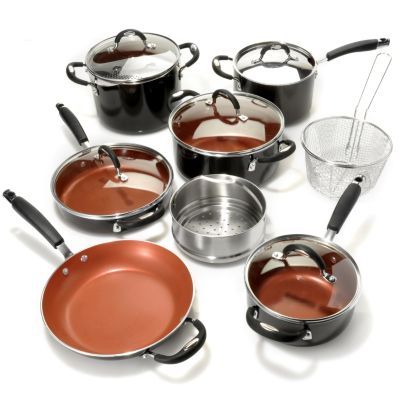 My third favorite thing about this set is that it has everything that my old cookware set had and more. It's surprising because my old set cost just over $400, but this set is under $200 and comes with extras. For instance, I am now hooked on the steamer insert that comes with this set. I've been using it every night to steam veggies.
Another thing that I love is the pasta insert! This was the first time that I have ever used one and it is super convenient. I fill the strainer with pasta, insert it into boiling water, and pull it out when it is ready. In the second photo, you can see that there is a little clip on the side that makes it easy to let the strainer rest on the pot while excess liquid drains. This has been really helpful when the water is steaming and I don't want to stand near the pot.
I think that it is worth mentioning that the lids

ar

e tempered glass. I always prefer glass lids so that I am easily able to monitor the contents. Another thing that is nice is the stainless steal handles that are coated with a soft silicon material. I like that they are easy and comfortable for me to grip.
Finally, they say that these are oven safe for up to 350-degrees F. I often find myself putting these into the oven at a low temperature in order to keep food warm.
I am so thrilled to have come across this trendy cookware set. The design team that created this cookware set deserves recognition for a job well done! This comprehensive cookware set has it all!
Are you ready for a new cookware set?
Learn More
This set is available on ShopNBC.com website.
It is also available on Amazon.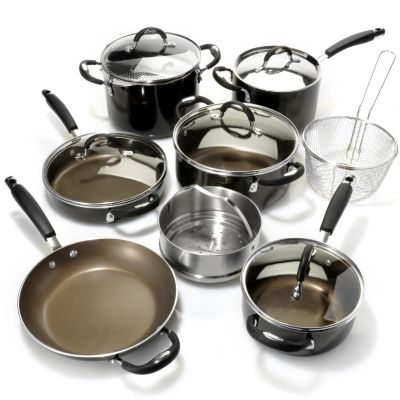 We appreciate the complementary products that we received. An affiliate link is included in this post. All opinions are honest and our own.