This post is sponsored by Sivan Social. All comments and opinions are my own.

I am excited to tell you that the popular Shop, Play, Win! Monopoly game is happening at Albertsons stores this year! This campaign includes opportunities for chances to win any of $230,000,000+ worth of prizes. We look forward to this fun campaign every year because the Monopoly game makes it more fun for my children to do grocery shopping with me. They actually want to go grocery shopping with me because they like the Monopoly game that provides chances to win fun prizes. This year, you'll want to download the app ahead of time so that you are ready to play. In today's post, I'll tell you more about the Shop, Play, Win! Monopoly game, point you to the #GoShopPlayWin Twitter party for the chance to win prizes, encourage you to watch for your next Valpak envelope for a chance to win, and tell you about an extra opportunity for a chance to win through Savings.com!
Let's start by discussing the locations. The Shop, Play, Win! Monopoly game is at the Albertsons family of stores. This includes their banner stores of

ACME, Albertsons, Albertsons Market, Carrs, Jewel Osco, Market Street, Pavilions, Randalls, Safeway, Shaws, Star Market, Tom Thumb and Vons.
Here is a quick overview of the campaign:
When: March 3, 2021 to May 4, 2021
Where: Albertson family stores, including ACME, Albertsons, Albertsons Market, Carrs, Jewel Osco, Market Street, Pavilions, Randalls, Safeway, Shaws, Star Market, Tom Thumb and Vons
Details: Customers have chances to visit ShopPlayWin.com to have a chance to win $230,000,000 in prizes from participating stores
Personally, the store closest to our home is Tom Thumb. We love our local Tom Thumb because the store is always clean and well organized with all of the groceries that we need. Best of all, they have the nicest employees who go over and above to help customers. We've always felt a warm and caring atmosphere there, but a couple of memories stand out in my mind. The first was during my last pregnancy. I gained 25 pounds and was really uncomfortable. I remember trying to put club soda in my shopping cart and one of the employees running over to insist that they help me. It was very sweet. I was tired of the pregnancy weight gain and appreciated their kindness. Another time that stands out in my mind is when I bought a large number of Starbucks reusable cups for an event and forgot my receipt. I went back and asked if they happened to see me drop the receipt. It had been thrown out, but the employee insisted that if I could wait for a few minutes, they had a solution. I told them that it was okay, but sure enough, they called the manager who came over with a new printed receipt for me within a few minutes. I'm not sure how they worked their magic, but I loved that they were so eager to help me. Our local store is very invested in customer service which makes them feel like part of our community. I always enjoy their friendly smiles and warm personalities to make our shopping experience nicer.
While we love our local Tom Thumb for the great selection of items, cleanliness, and nice employees, there is another reason that we love them right now. The
Shop, Play, Win! Monopoly game
adds some excitement to our grocery shopping trips. My boys love Monopoly and get excited to see my game tickets. The new app makes it fun for me to scan the tickets and interact as we find out whether we won a prize! The figure below shows the concept. It's pretty easy:
Earn tickets for every $25 qualifying purchase (up to 4 tickets for $100 purchased AND one ticket for each featured item that you purchase. The ticket quantify that you earned is printed on the receipt.

Open the tickets to reveal a digital code.

Scan ticket code(s) to play.
It's a lot of fun to use the app to find out whether you won a prize! My boys love to watch me play and are always excited to find out if we won a prize! (Visit here to learn more and to get the app.)
As I mentioned earlier, there are a few other opportunities for chances to win. One is to watch for a Valpak envelope to come in the mail. If you are lucky to receive this mailer, you will find that the upcoming one includes a chance to win! Another opportunity for a chance to win is through
Savings.com
.
They are hosting a giveaway where sixty (60) winners will receive $100 gift cards to spend at Albertsons Companies Stores. Here is a quick summary of the details:
When: Wednesday, March 3rd at 12:00 AM PT to Wednesday, March 31st at 11:59 PM PT
Where: Visit Savings.com here.
Details: Sixty (60) winners will each receive a $100 gift card to spend at Albertsons Companies stores. The winners will be chosen through a lottery drawing and notified on Thursday, April 1st via the email address they used to enter. See complete Official Rules for entry instructions, full prize descriptions, restrictions and other important details.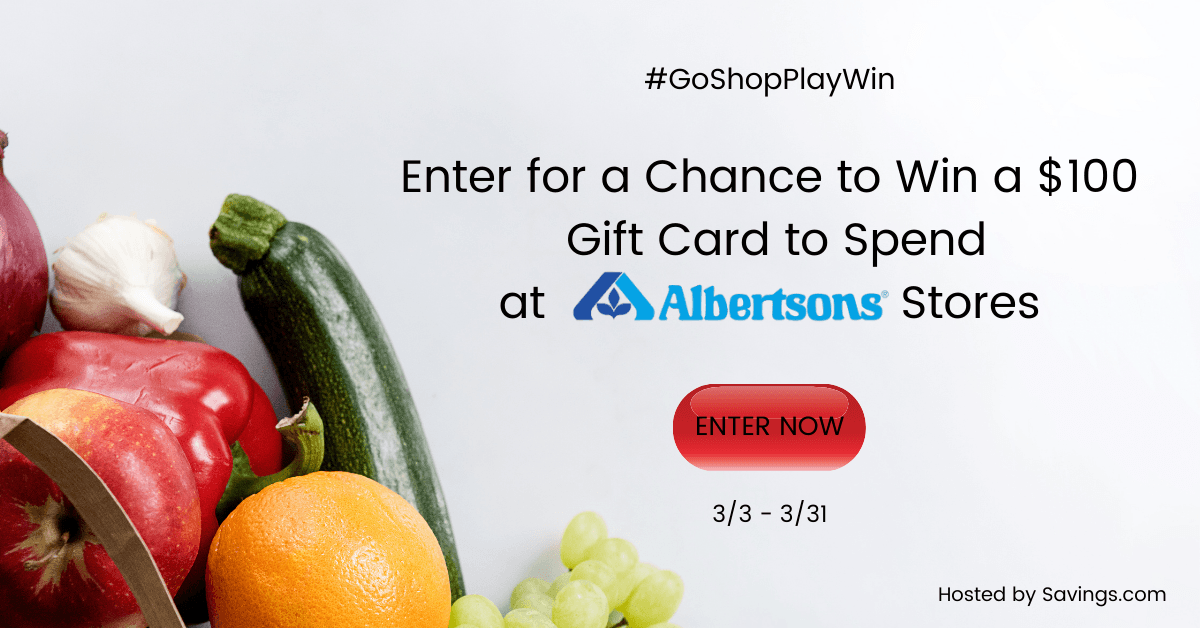 Let me share the details.

What: #GoShopPlayWin Twitter Party with a chance to win
When: Thursday, March 25th, 2021 at 10AM PT/ 1 PM ET.
Where: RSVP here and then attend the Twitter party using the hashtag #GoShopPlayWin
Details: RSVP for a chance to win $500 in gift card prizes and attend the fun Twitter party!
Finally, please note the following:
NO PURCHASE NECESSARY. Game tickets end 5/4/21. Must be resident of an eligible U.S. state listed in rules; 18+. Visit www.shopplaywin.com for full rules, incl. how to enter without purchase. Series MON-14. MONOPOLY™ & © 1935, 2021 Hasbro, Pawtucket, RI 02861-1059 USA. All Rights Reserved. TM & ® denote U.S. Trademarks. Hasbro is not a sponsor of this promotion.